Lowering the barriers

to data insights
---
Keshif means
data made explorable

.
Our flagship technology enables 360-degree exploratory analysis with ease and speed. Our solutions bridge the gap between data and action for mission-driven organizations.Explore our work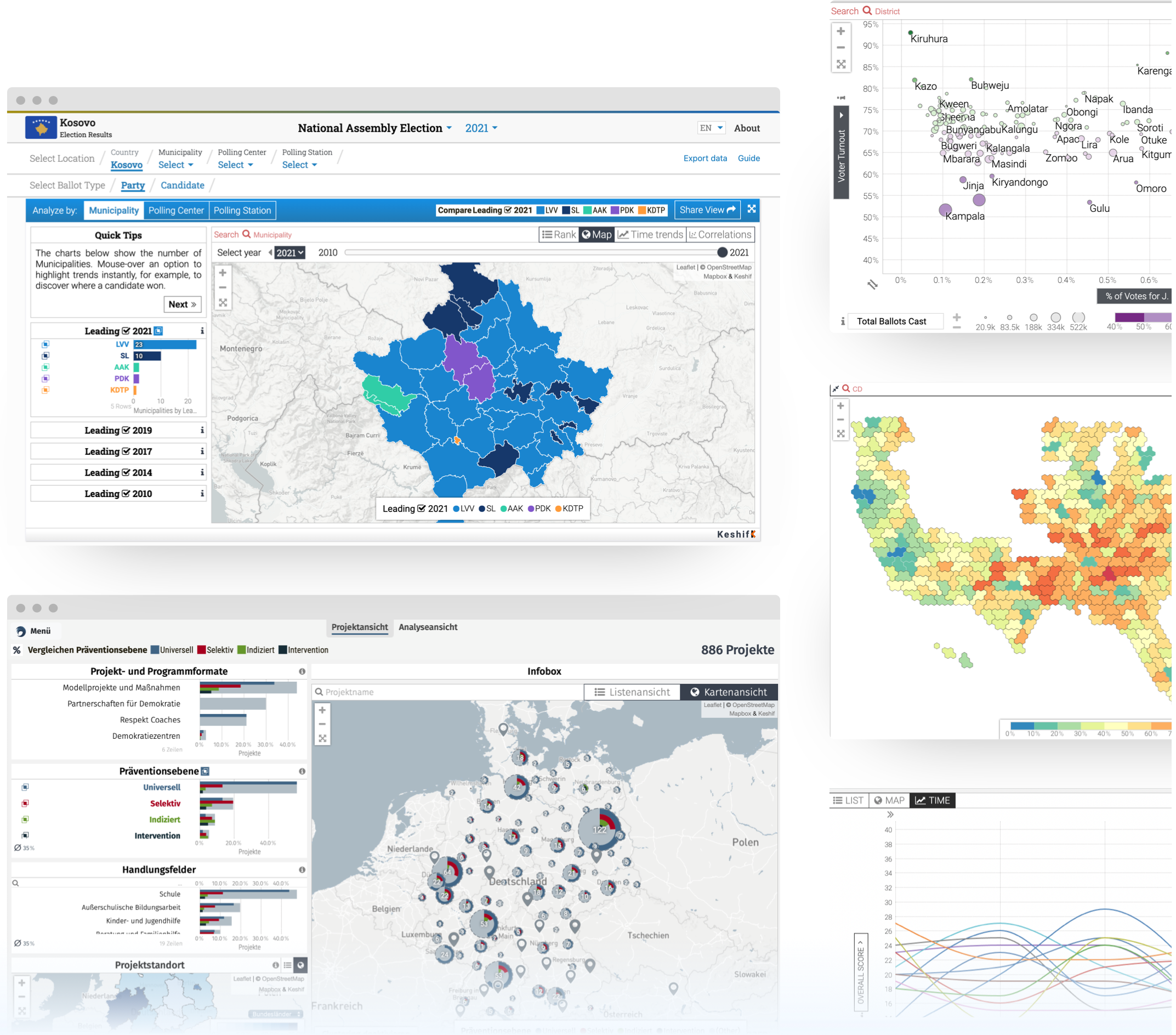 Explore and discover trends
Access interactive, rich dashboards that inspire you to move beyond static charts and snapshot results, to ask and answer new questions.
Automated with best practices
Express your analytics goals and let Keshif visualize your data and amplify your visual intelligence with the best practices.
From tables and cells to insights
Analyze with cross-dimensional filtering, comparisons, and aggregations by bringing sensible organization to rows and columns of data.
Simplest rich analytics
Our distilled visual analytics process unifies and simplifies common tasks so you can just focus on your data goals, not on the control options.
Rapid interactive answers
Analyze at the speed of thought, with fully synchronized, dynamically updated charts and dashboards at every step in real time.
Flexibility to fit and extend
With our extensible architecture based on modern web standards, our applications can ingest rich data and present custom visualizations.
Learn how you can visualize and explore your data by creating and navigating rich dashboards and interactive charts with Keshif.
Visit our knowledge base

Solutions
Our technology and services adapt across different datasets of many types and sizes. We convert rows and columns of tables and databases into rich, interactive, explorative charts and dashboards. Learn more about our key offerings for datasets we commonly work with in our solutions pages.
Services
We solve important data analytics challenges with full-scope, result-oriented application development and advisory services powered by Keshif's innovative and rapid visual data exploration technology.
Learn more
Visual Data Analytics and Dashboarding

Data Preparation

Data Collection

Data Strategy

Services Beyond

Web Design and Development
Sectors
We enjoy working with mission-driven organizations across sectors, and contributing with our technology and expertise to create data solutions that improve the wellbeing of people around the world.
Monitoring, Evaluation & Learning
Economy, Finance & Trade
Health
Democracy & Governance
Defense
Stabilization & Transition